Home
Lest we forget
On Saturday 13th November at 10.45 am there will be a short Service of Remembrance at the war memorial outside St Francis Church, Littleton, to be kindly taken by The Revd James Rattue, Rector of St John's, Farncombe. Everyone of all ages is most welcome.
Copies of the excellent booklet written by Vicky Good, with information about each of the men of the parish of Artington who gave their lives and whose names appear on the war memorial, can be viewed on the history page of this website:
http://www.artington-pc.gov.uk/community/artington-parish-council-18617/lest-we-forget/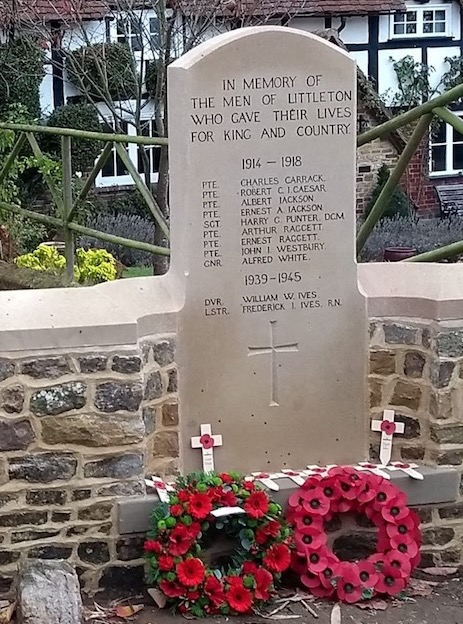 Parish council vacancy
There is a vacancy on the parish council following the resignation of Richard Bennett. If you might be interested in joining the council, please contact the clerk, Phil Gorton, for more information.
Artington Neighbourhood Plan
Dear Artington Parish Resident
YOUR PARISH NEEDS YOU!!!
Along with Guildford and the surrounding area, our small parish is likely to change, possibly beyond all recognition over the coming years. Surrey Police are moving from Mount Browne and the University of Law is rumoured to be moving as well - both sites are ripe for housing development.
Artington Parish Council has agreed that we should embrace this change in a positive way. Along with the parishes of Puttenham and Compton, and after much consideration, we feel that it would be a huge advantage to write our very own Artington Neighbourhood Plan. With this written and in place, the developers, when they arrive, would be required to incorporate our wishes into their plans. This would ensure that any future development is not something that is done 'to us' but something that we have planned for and developed ourselves.
So what are we looking for?
We need to find volunteers willing to give time to a Neighbourhood Plan Steering Committee which would work alongside, but independently of, the parish council.
We would anticipate meetings perhaps six times a year - funding is apparently available for us to enlist the services of a Planning Consultant to help us through the process.
Please can you put your hand up to help?
No experience required.
We are looking for volunteers with good ideas, and an interest in our neighbourhood, with a desire to help create a community for the future that we and our children can be proud of.
Get your thinking caps on . . . what do we want?
Children's play areas?
More green spaces for sport and leisure?
Cycle paths?
Safer ways to access town without our cars?
Doctors surgery?
Local shop?
Bus stops where?
Much is possible if we have our say and make it happen.
If you are interested in getting involved, please email the parish clerk at
Volunteers have now been found and a meeting will be held in St Francis Church, Littleton on Monday 15th November 2021. Dan Knowles from Guildford Borough Council will talk about neighbourhood plans and how local people can be involved in their creation. If you have not already answered the call but would like to find out more about what is involved, you are very welcome to attend the meeting.