History
This page, which is devoted to random aspects of parish history will be added to when the parish clerk has time to do it.
Look at the History drop-down list in the menu bar for more articles.
If anyone has any images or research they would like to add to this site, please contact the parish clerk.
Caleb Lovejoy almshouses
The Caleb Lovejoy charity owns and administers four cottages that lie in Bury Street behind St Nicolas's church in Guildford. It was founded to provide for the poor of the ancient ecclesiastical parish of St Nicolas, Guildford, of which the modern civil parish of Artington is a part.

The charity was founded by Caleb Lovejoy by his will of 1676 and the houses are one of four sets of historic almshouses in Buryfields, Guildford, that continue to provide homes for the older members of the community. The houses were built in 1841 but have been upgraded to provide all the usual modern conveniences.

Caleb Lovejoy was baptised at St Nicolas Church in Guildford on May 8th 1603, the son of Phillip Lovejoy. He was an intelligent boy who was given a free education at the Royal Grammar School before being moved to Southwark by his parents at the age of fourteen.

In London, Caleb was very successful. He was a member of the Merchant Taylors' Company, one of the Great Twelve Livery Companies, which gave him the freedom of the City of London. He owned the Walnut Tree Inn and other property in Southwark and became a wealthy merchant who supplied wagons to Oliver Cromwell's army during the Civil War.

Caleb Lovejoy is primarily remembered in Guildford as a benefactor. In his will of 1676 he bequeathed property under lease in Southwark to form a charity for the benefit of the poor in Guildford. He appointed three guardians as trustees. Six pounds per annum was to be provided for "teaching of poor people's children their letters until they could read their Testament." The teaching to be undertaken, "by some honest poor woman."

He stipulated that, after 45 years, four almshouses should be built in the parish of St Nicolas as accommodation for four poor persons of good character. However, it was not until 1839, after the sale of Caleb's estate, that land was purchased in Bury Street Guildford and four almshouses were built.

To be eligible, applicants were required either to have been born in the parish or have lived there for fifty years. In his last will and testament, Caleb directed that he should be buried in St Nicolas's churchyard and that the priest should be paid for a yearly sermon in his memory. A sermon has been preached in his memory every year since 1603.

There are two brass plates in the church; one giving details of Caleb Lovejoy's legacy and his death and burial in 1676 at the age of 74; the other has the following verse inscribed which is said to have been composed by Caleb himself:

Caleb Lovejoy, her I lye, yet not I,
My body being dead
My soul is fled unto Eternitye
There to injoye that everlasting Bliss
Which Jesus Christ, my Lord
Who's gon before, prepared hath for his;-
Wherefore my Body rest in hope till then
When he shall joyne thee to thy soul agen
And bring thee unto that most glorious vision
There to enjoye thy God in full Fruition.
The charity is still thriving and providing housing. It is governed by a board of eight voluntary trustees and day-to-day management is carried out by the clerk.
If you are interested in living there, you should contact the clerk of the charity:
Further information available at www.caleblovejoy.com
Email enquiries to [email protected]
Telephone 07903 313201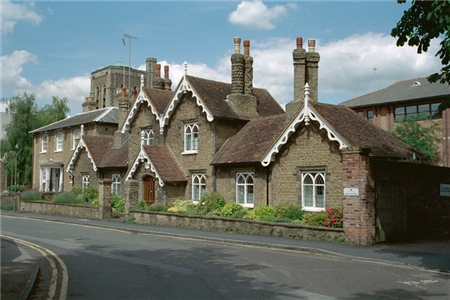 The enclosure of the Pease Marsh
John Rocque's map (c1760) shows the area before the enclosure of the Pease Marsh common that occurred in the 1810s. Enclosure made a very significant change to the landscape - and to the lives of the cottagers who previously exercised their common right to pasture their animals on the marsh.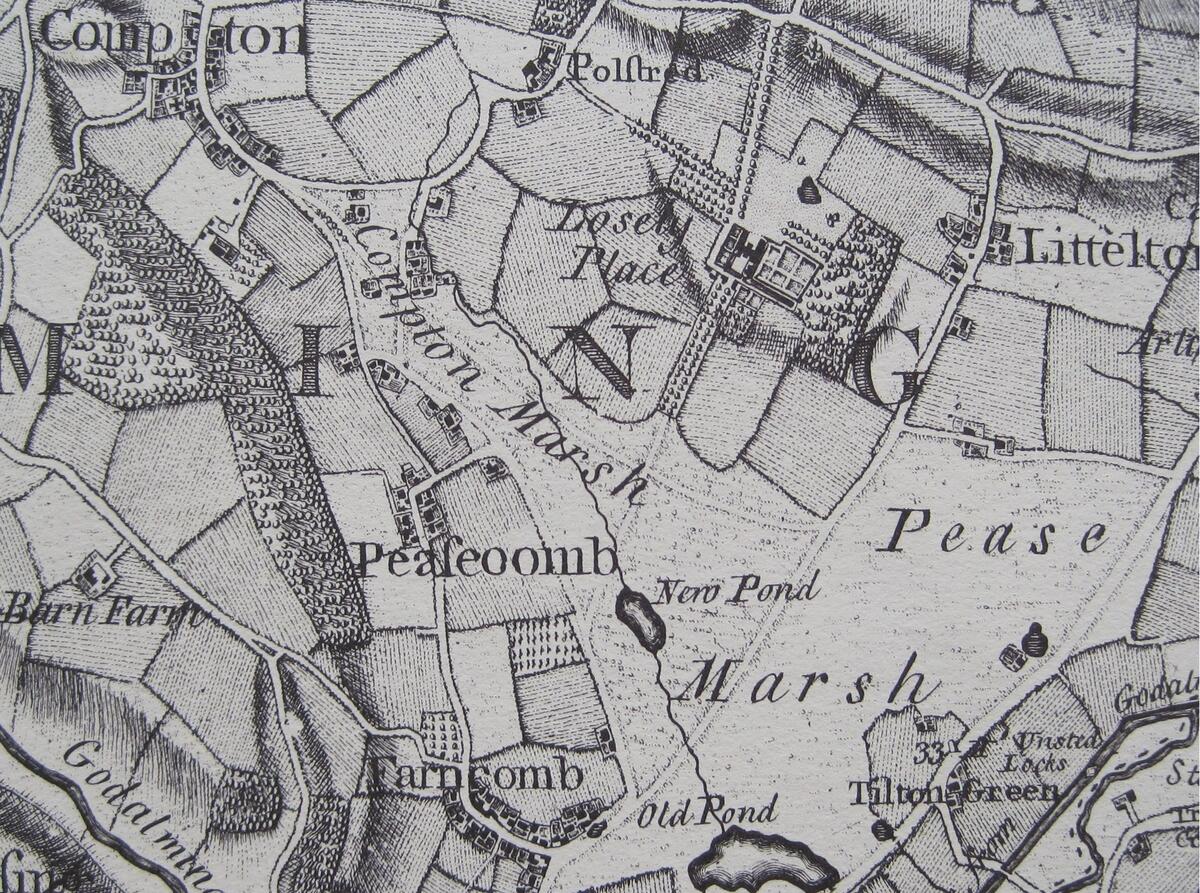 William Cobbett's Rural Rides
29 November, 1822.
Went on to Guildford, where I slept. Everybody, that has been from Godalming to Guildford, knows that there is hardly another such a pretty four miles in all England. The road is good; the soil is good; the houses are neat; the people are neat; the hills, the woods, the meadows, all are beautiful. Nothing wild and bold, to be sure: but exceedingly pretty; and it is almost impossible to ride along these four miles without feelings of pleasure, though you have rain for your companion, as it happened to be with me.

Cobbett was pretty scathing about many things and I imagine that his view of the journey from Godalming to Guildford would be rather different if he were to undertake it today (apart from his comment about the inhabitants of Artington, of course!)
Drilling for oil in Littleton, 1950s
Pathé News footage of the oil well on Loseley estate:
http://www.britishpathe.com/video/oil-in-surrey/query/littleton
St Catherine's ferry
For many hundreds of years, travellers crossed the river using the St Catherine's ferry. This image appears to be from the first decade of the twentieth century.